Classes/ Workshops/ Special Events: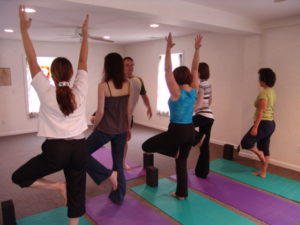 EVERYTHING is on hold due to the Covid-19 quarantine – until May 4th, or until further notice! 
> Beginner Yoga with Heidi MacEwen.  Mondays @ 6:45 – 8 pm. Gentle Stretching for strength, better balance and flexibility. $15 drop-in or $65 for 5-week series. (1st class ~ drop-in only $10 or $50 for 5-weeks)
> Beginner Yoga with Cindy Senk. Thursdays @ 5:45 – 7 pm. Gentle Stretching for strength, better balance and flexibility. $12 drop-in  (1st class ~ drop-in only $10)
> Body Groove Dance with Debee Boulanger.  Join the World Groove Movement! Body Groove is a simple easy form of movement (dance) exercise that anyone can do. Most importantly, you do not need any dance experience to take this class. This fun free-style dance allows one to be creative in their movement – you can't get it wrong! The instructor, Debee will lead you throughout the class and you'll simply create your own style… promise – it'll be FUNtastic!!! Classes will be TBA
> Empowering Your Empathic Path with Kim Pearson. Do you ever experience unexpected and overwhelming feelings like anxiety, headaches, nausea that just seem to appear from nowhere when you're with someone else? Come join Kim and explore your natural psychic abilities and intuitive gifts in a safe and supportive environment. Share your talents with a community of like-minded people. Typically the 1st Friday of the month @ 7– 9PM ~ Cost $20. Must pre-register!
> Monthly Moon Group with Sharon D'Angelo. Learn to work with the power of the different phases of the moon, create balance using the elements, honor our ancestors and their connection to nature, explore ritual and create positive change in your life. On-going* scheduled typically every 3rd Friday @ 7-9PM  ~ Cost $20. *Sign up & join this group at any time!
> Reiki I Training  with Susan Lecuyer. Learn how to work with Universal Energy using Reiki with a touch of Shamanic Healing practices. ~ Cost $250 per Level includes Materials evening classes ~ Reiki  Dates: call for details 
> Reiki Share with Reiki Master/Teacher Susan Lecuyer . Join other Reiki practitioners & share this powerful healing experience. Prerequisite: Reiki I training. Typically the last Tuesday of the month @ 6-8 PM ~Free Will Donation $7-$12. Must Pre-register!  Next share TBA.
> Monthly – DETOXification* Sessions – Ear Coning, Lymphatic, Ionizing Foot Bath & Far Infrared Sauna with Rachel Ginther. (*not a clinic for drug and alcohol rehab) Every day we are exposed to about 50,000 chemicals from the environment resulting in hazardous heavy metals that get stored in our body. Try an inexpensive, simple, painless, soothing method that can aid in the detoxification process.
 *Wednesday & Thursday Dates 2020 ~ Jan 8 & 9; Feb 5 & 6; Mar 11 & 12; Apr 8 & 9; May 6 & 7; Jun 10 & 11; Jul 8 & 9; Aug 12 & 13; Sep 9 & 10; Oct 7 & 8; Nov 11 & 12; Dec 9 & 10
Cost~ 30-min. Foot Bath $40; 20-min. Sauna $10; 60-min. Ear Coning w/ mini lymph session $75;  Lymphatic Session $75; Galvanic $30; Kansa (intro rate) $40 ~ by appt. only!
We kindly ask that you pre-register for ALL of our classes & workshops 
Abundant Wellness Center  94 CHICOPEE ST., RTE #116,  CHICOPEE, MA 01013                             To contact us or schedule an appointment CALL (413) 592-2828  or EMAIL    info@abundantwellness.net