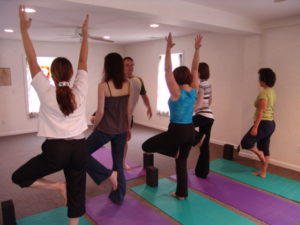 Yoga 
Yoga is a practice that combines exercise, breath and meditation to help you achieve increased flexibility and strength, as well as enhanced relaxation and centeredness.  New to Yoga?  We recommend you start with a gentle or beginner's class.
Mondays – Beginner Yoga Class w/ Heidi MacEwen | 6:45 – 8:00 PM
Thursdays – Beginner Yoga Class w/ Cindy Senk | 5:45 – 7:00 PM
Tai Chi / Qigong 
This class will draw from ancient traditions and make it relevant to modern life – focusing on healing, growth, opening, connecting, working towards embodied wholeness and relaxation, while feeling grounded and centered. Tai Chi forms are also taught in this class. This gentle practice of physical conditioning is an exquisite choreography of flowing standing postures. Tai Chi fosters balance, awareness, and grace through meditation in motion, with an emphasis on body alignment. Soft and deliberate movements foster sound body and mind, boosts the immune system and creates a more focused and relaxed state of mind. Beginners – no experience required! Please wear loose comfortable clothing. Check our calendar for the next class.
Cost ~ $10 or 6-weeks for $50
Wednesdays – Beginner Class w/ Michelle Zemba | 6:00 – 7:00 PM
Saturday Workshops ~ TBA
There are many different types of Yoga however Yoga for beginners appears to be the most popular in this establishment. The Yoga poses are minimally challenging and the Yoga benefits are amazing including increased flexibility, stress reduction, injury rehab, core strengthening and even Yoga weight loss. Other forms of gentle movement are Tai Chi exercise and Qigong exercises. Anyone can learn Tai Chi or Qigong and the Tai Chi moves and Qigong techniques are slow and graceful so Qigong and Tai Chi for beginners are very easy. Tai Chi benefits and Qigong benefits are design for optimum health. The history of Tai Chi is that it was created as a martial art form. The Qigong repetition helps with Qigong meditation. Both Tai Chi and Qigong breathing are very important. We also offer other holistic alternative therapies to clients in the Chicopee and Greater Springfield area of Western Mass, including Hampshire and Hampden Counties, as well as Northern Connecticut. 
To contact us or schedule an appointment call (413) 592-2828