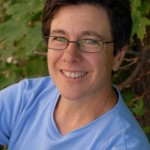 Terry Tangredi, Lic. Ac. has been practicing acupuncture since 2001, and holds a Masters Degree from the New England School of Acupuncture, awarded after an intensive three-year program. This included extensive western medical science training in pathology, anatomy and physiology, and clinical training with a diverse clientele. She continues to study with senior and master acupuncturists to hone her ability to effectively treat various pain problems and chronic illness.
Terry's goal is to provide thorough and high quality treatments at a reasonable price to her clients. Having lived with pain herself, she is committed to helping people heal with treatments that are gentle, safe, effective and free of negative side-effects. Terry is a Master Chinese Herbalist. She is dedicated to educating people about Chinese medicine, and loves creating custom herbal formulas, liniments and salves for skeletal muscular pain.
Through her work, she has found Acupuncture and Chinese herbal medicine are gentle yet powerful methods of healing and maintaining health, getting to the root of illness and pain, not just treating the symptoms. Terry considers herself a lifelong learner, an avid reader and loves the arts, good food, gardening and nature.
TCM ~ Ancient Chinese Wisdom  with Terry Tangredi, Lic. Ac.
Abundant Wellness Center  94 CHICOPEE ST., RTE #116,  CHICOPEE, MA 01013                             To contact us or schedule an appointment CALL (413) 592-2828  or EMAIL    info@abundantwellness.net
To find out more visit Terry's website: www.terrytangredi.com
Testimonials:
"I was experiencing chronic pain from dental work and subsequent dental surgery, when a co-worker sent me to Terry.  Not knowing a lot about acupuncture, I found Terry to be kind, gentle and encouraging. Terry has done wonders with reducing the level of pain I was experiencing.  And, as an added bonus, I have found my anxiety levels have decreased and feel more energized than I have in the past two years.  Family, friends and co-workers have noticed a difference and have commented on my well- being and happiness!  I highly recommend!!!!" ~ Brenda
"Don't ask me what got me to try acupuncture, I hated needles and didn't believe in Chinese herbs but a friend recommended Terry and I was desperate for help deal with my chronic health issues. Terry was very patient through my anxiety. With acupuncture and Chinese herbs, we got my chronic health issues under control. I always leave Terry's office feeling relaxed and rejuvenated. I've been to other acupuncturists since, but Terry is the best. Terry is awesome!" ~ M.S.
"Several months ago I was experiencing severe hip pain which was not helped by chiropractic adjustments, deep tissue massage, or exercise. It was interfering with sleep and daily functions. On the advice of my massage therapist I called Terry to see if acupuncture might help. I had never tried it before, and wasn't really sure if I believed it could help. After a couple treatments the hip pain disappeared and has not returned." ~ S.C.
"Terry is a gifted healer who has resolved and maintained my stomach issues for me." ~ C.G.
"Acupuncture was the best thing I could have done. It loosened up my back, I took off 20 pounds and kept it off, and my energy level soared." ~ M.K.
"I can't believe it! For the first time in 2 months I don't have a headache. After the car accident I thought I would have that headache forever. Now I have my life back. Thank you." ~ C.F.
"I have for years been unhappy with some deep lines on my face and a feeling that I looked older and tired. Terry told me that acupuncture can sometimes help and she suggested a treatment plan for me. I have now completed 11 facial rejuvenation treatments and can't wait to go back to work next month and have my co-workers ask me what work I had done over the summer!!! The person who does my facials remarks every time how refreshed I look…..before she does anything! This is not a radical change, just a softening of the lines and lessening of the furrows between my brows. Terry wasn't sure if she imagined the improvements, but it's clear to me and others have noticed as well. I didn't want to do anything invasive to my face, and acupuncture has worked beyond what I expected from a non-invasive process." ~ S.C.
Many people have asked me "what do you do to keep yourself healthy?"  I just turned 59 and I feel 29 – however looking that age is questionable!  Of course I eat carefully… picky, picky, picky!  I'm a label reader – no GMO's, gluten, soy or processed crap!  I keep busy – gardening, yoga and qigong classes. During the winter months I plan on starting Pilates classes at The Pilates Studio in Hadley. I figure I can also do my shopping at Trader Joe's and Whole Foods when I'm in Hadley.  Then there's massage usually every 2-3 weeks plus reiki, detox & galvanic sessions.  Besides my spiritual work, out of everything I do I have found ACUPUNCTURE to be the most profoundly healing.  Just a few examples… One day I woke up with a stiff neck.  I went to my yoga class then got a massage but it was only slightly better afterwards.  Lucky for me Terry came in later that day. I saw her in the acupuncture clinic and she put the tiny needles around the area that was stiff and the last needle was put into my opposite ankle and I felt my neck tension release instantly.  Whoa – I was flabbergasted! Just recently I tripped and feel over my dog's runner – smack on my face. I didn't feel anything at first so I continued to garden and later that night when I was ready to lay down my back went into spasm.  I used magnesium oil with Helichrysum and Trauma Liniment on my lower back so I could at least get to sleep.  I woke with no pain but it still felt on the verge of another spasm.  I've learned that if I have a problem I address it immediately!  Fortunately, Terry came in that day and I felt I needed a private session with her to relieve the muscular tension before it went into spasm again.  She put lots of needles on the front side of me then half way thru she had me turn over so she could put needles along with the heat lamp on the back side.  To finish the session she topped me off with cupping on my back.  That treatment was amazing – my back was totally relaxed with no signs of spasm.   "I totally recommend ACUPUNCTURE especially with a highly skilled practitioner such as Terry Tangredi." ~ Debee Boulanger
Terry Tangredi, Lic Ac. treats a multitude of issues:
Are you or some one you care about suffering with chronic pain?  Is pain effecting your quality of life, your relationships, or your ability to do things that are important to you? Sciatica, low back pain, neck or shoulder pain? Knee pain or plantar fasciitis? These are some of the types of pain I treat effectively every day with acupuncture.
Now I have heard how people don't like needles but I want you to know the needles I use are very delicate, only the size of two or three hairs, and I always use the minimum needed to help the person I'm treating. The sensation of the needles are generally minimal as well, a small prick like a mosquito bite, of a little zing as the energy is contacted.  A small price to pay for a large benefit of relief from pain.
In addition to pain, acupuncture is effective for treating digestive problems, insomnia, headaches, and women's issues such as PMS, painful periods, infertility and menopausal symptoms.
Acupuncture is also very cost effective.  In most cases people feel better after 2 – 3 treatments, some even after one treatment!  There's both availability for private appointments and a group clinic for those who are on a budget, I offer affordable $30 treatments at the clinic.  How does it get any better than that?
Guidelines for Eating from Chinese Medicine:   by Terry Tangredi, Lic. Ac.
> Always chew slowly and thoroughly. Digestion begins with saliva in the mouth. It's been reported that people eat much faster and unconsciously today than in the past. This may be because of our multi-tasking hurried lifestyles or from unconsciously eating in front of the TV or in the car on the run. Eating slowly gives the brain time to register feeling satiated. It can take 20 – 30 minutes for your brain to register feeling satiated. This is why eating with others, enjoying conversation and leisurely eating food may be one of the reasons why the French are thin in spite of a high fat diet.
> Eat only until 70% full. The main message here is not to over eat by feeling 'stuffed'. The ancient Chinese recognized the need for the stomach to actively churn the food. If there's no room for the churning of our stomach then we will experience heart burn or the food will be processed through without benefit of complete digestion.
> Eat predominately vegetables either lightly sauteed or steamed, and use meat (animal protein) as a condiment or flavoring.  Guidelines are to eat 3 oz. of animal protein per day, which is about the size of your cell phone.
> Eat more raw fruits and vegetables to cool an over heated stomach. (In Chinese Medicine excess hunger is called 'stomach fire'.) Celery, lettuce, green leafy vegetables and cooked cabbage is especially helpful.
> Green drinks such as wheat grass, spirulina or micro algae also cool stomach fire.
> Avoid a lot of foods that inflame the stomach like meats, fried foods, nuts, seeds, salty and warming flavors like garlic, onions, cinnamon, ginger, cumin and hot peppers.
> Liquids and foods should be neither too hot or too cold. Heat creates an acidic environment and cold paralyzes the digestion.
> Avoid drinking too much with meals, this dilutes the digestive juices. Drink water without ice or herb tea 10 – 20 minutes before meals. A small amount of water about 4 oz. is okay with meals.
> Try to be consistent with meal times as the stomach likes regularity. Do not skip meals or become overly hungry as this may lead to overeating of a quick fix 'junk food' binge.
> Do not eat past 7 PM at night. Instead use herbal teas or green drinks to satisfy hunger.