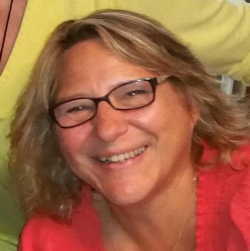 Sharon D'Angelo, Intuitive Medium is a Certified Tarot and Oracle guide. She uses a variety of Tarot and Oracle cards to provide her clients with guidance, getting to the matter at hand and discussing where any obstacles may be. Her goal is to empower her clients to make choices that are for their highest and best lives. She is a firm believer in free will and understands that we can always change our path and move in a different direction.
Sharon is also a talented psychic medium and welcomes loved ones who are in spirit to come through in her readings to give healing, loving and meaningful messages. She works with her spirit guides, always coming from a place of love and healing.
She is a Wiccan High Priestess and teaches the basics of Wicca at the center, in a Year and a Day Program (currently in session). She also hosts the Monthly Moon Group where people of all spiritual practices can gather, support each other on their paths and align with nature to manifest positive change in their lives.
New! Sharon is now offering Akashic Record Readings and Soul Realignment ™ sessions. Sharon will access your Akashic record to discover your soul's Divine Essence as well as the theme your soul chose to experience in this lifetime and the gifts you brought into this lifetime.  Also discussed and cleared in a session are any blocks and restrictions from this and past lives that are not congruent with your soul's true essence. She is a certified Soul Realignment ™ Practicioner.
Currently, Sharon is in training for hypnotherapy!
Contact Sharon via text 413-297-2570
You can learn more by visiting her website at https://www.sharondangelo.com
Abundant Wellness Center  94 CHICOPEE ST., RTE #116,  CHICOPEE, MA 01013                             To contact us or schedule an appointment CALL (413) 592-2828  or EMAIL    debee@abundantwellness.net