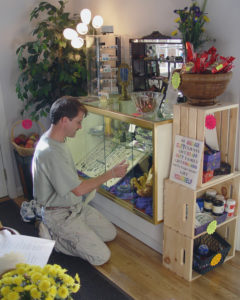 Our prices are the most reasonable around and yoMu actually get to see, touch, smell (and in some cases taste – like our CBD products) and decide if the product is exactly what you need – not something you'd get from ordering online!
However, 24/7 is not our usually available hours open for the retail shop so PLEASE give us a call to make sure the shop is open before you make a special trip here! Although we have GREAT hours we don't always have desk coverage or help in the shop. And we also encourage our clients to schedule their appointments ahead of time.
Thanks for your patronage!
 For more information about our available products, or to inquire about a special order, please call (413) 592-2828.
Helpful products for the body – every body:
Abundant Wellness is proud to carry CBD Products!  CBD Drops,  CBD Extract, and CBD Infused Topical Creams…
Social formerly Select CBD Drops with potent herbal extracts:  100% Pure CBD Oil blended with MCT oil and Lemon Ginger essential oil with Turmeric that reinvigorates you with natural citrus extracts to help you reconnect and regain energy; 100% Pure CBD Oil blended with MCT oil and Peppermint formulated with Ashwagandha and Rhodiola to provide the exhilarating, clarifying benefits of medicinal CBD with an herbal lift or 100% Pure CBD Oil blended with MCT oil and Lavenderwith Passion Flower and Chamomile for release at the end of a stress-filled day or grounding to help you start a new one.  Select's tincture comes with an easy drop applicator for the perfect dose. The product can be used orally as well as topically on the skin. 30ML Bottle – 1000mg CBD   To shop online – CBD Select
Other products – CBD creams & potent extract, Colloidal Silver, Essential Oils, Magnesium & Mineral Oils, Ormus, Activated Charcoal, Arnica, Castor Oil, Calm, Cell Salts, Essential Oils, Herb Pharm Herbal Supplements, Jojoba Oil, etc.
NOTE: All our crystals, incense, divination cards, etc. are being sold out of Stardust Blessings – a 5,000 square foot metaphyscial and wellness center. Their contact info: StardustBlessings.com;  145 Boston Post Road, West Haven, CT 06516 (just an hour away from AWC).  Call Stardust Blessings @ (203) 932-1441 to see about their hours. Make a special trip there – you will be impressed!
Abundant Wellness Center  94 CHICOPEE ST., RTE #116,  CHICOPEE, MA 01013                             To contact us or schedule an appointment CALL (413) 592-2828  or EMAIL    debee@abundantwellness.net